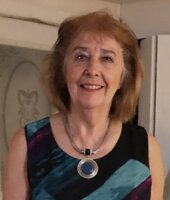 Hazel Morris
Hazel E. Morris
Passed away peacefully in the presence of her loving family on September 9, 2021, age 75 years. Left with fond and loving memories her children: Christine (Fraser), Lisa, Rhonda (Hubert), Rob (Christine), grandchildren, great-grandchildren, nieces and other family and friends. Cremation has taken place. A private funeral service to be planned. A special thank you to the medical, nursing staff at ICU, Western Memorial Hospital, Corner Brook and Health Sciences Centre, St. John's. Donations may be made to the SPCA. To send a message of condolence, please visit www.hickeysfuneralhome.com
"When I'm Gone" by Lyman Hancock
When I come to the end of my journey
And I travel my last weary mile,
Just forget if you can, that I ever frowned
And remember only the smile.
Forget unkind words I have spoken;
Remember some good I have done,
Forget that I ever had a heartache
And remember I've had loads of fun.
Forget that I have stumbled and blundered
And sometimes fell by the way.
Remember I have fought
Some hard battles and won,
Ere the close of the day,
Then forget to grieve for my going,
I would not have you sad for a day,
But in summer just gather some flowers
And remember the place where I lay
And come in the evening
When the sun paints the sky in the west,
Stand for a few moments beside me
And remember only my best