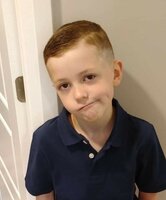 Samuel Porter
With devastating sadness, and broken hearts we announce the passing of Samuel Riley Porter (Sammy), of Conception Bay South on Sunday, July 17, 2022.
Sammy was only six years old, but his unique personality, infectious laugh, smiling eyes and energy for life will be a memory we all hold in our hearts forever. To say he was brave, determined, and adventurous would be an understatement. He was all the above and so much more. His knack and ability for climbing trees, or anything for that matter, was his trademark. We can only imagine how high the trees are that he gets to swing from in heaven.
His love for sports came instinctively, he was a natural athlete. Hockey, softball, baseball, ball hockey, he loved them all. Not only playing but being with his friends and he had so many. We all know he is already making new friends and playing sports in heaven. Heaven has gained an all-star.
Sammy had a distinctive charm and would say the funniest things. His love for his family and friends knew no bounds. He loved everyone and everyone loved him. Most people in this world will have lived their entire lives and will never touch the hearts of as many people as Sam was able to touch in his 6 years,
Sam made an everlasting impact on us all. In his short life here on earth he taught us all to be braver, to be adventurous, to be determined, and of course to be kind. We are all just so lucky to have had the time we did have with him. As much as we needed him here with us, heaven needed him a little more.
You are so special Sam. We love you.
Sam is predeceased by his Nanny and Poppy Porter (Gerald and Madonna)
Leaving to mourn but to keep his spirit and love for life alive, are his Mom and Dad, Angie and Steve Porter, his brother and best friend, Aiden and his grandparents Nanny and Poppy Gear (Alice & Leo) and Nanny and Poppy Mac (John & Deneen McDonald). Also keeping his spirit and love for life alive are his aunts, uncles and cousins, Adam & Jennifer Gear (Addison & Ainsley), Steven Gear & Audrey Healey (Sam's girlfriend) (Violet & Thomas), Natasha & Kurt Butler (Tyra & Gavin) and Meghan & Andrew Romano.
Sammy's memory will also be kept alive by a very large extended family Rita & Danny Kennedy (Kim, Robin, Lauren & Patrick Quinlan, Craig, & Nicole), Mary & Paul Walsh (Andrea, Steve, Ava & Sophia Canning. David & Carolyn), Marg & Gerry Noftle (Janis, Kory, Olena & Connor Cherepuschak, & Daniel (Julia), Stan Connors, Barry Connors, Glen Connors, Paul & Michelle Connors (Bradley & Jenna (Brody), Dean & Mary Connors (Olivia & Jack), Margie & Stan McDonald (Michelle, Glenn & Cailan Curtis & Niki), Gerald & Lillian Gear (Tom, Philippa, Tasmin & Devlin), Alex Gear (Deceased) (Colin, Paul, Peter &Mandi), Patricia Bowdring (Jason & Melanie), Eileen & Phil Bragg (Treena & Carly), Kay & Henry Crane (Jeffrey & Amanda), Kevin & Shirley Gear (Melanie, Jim, Josh & Lauren, Philip, Melissa, Charlie & Issac), Charlie (Deceased) & Mary Gear, Mercedes & Cyril Scott, Geraldine & Ed Greenslade (Emily (Anthony), Jackie (Len) McDonald (Ashley, Lisa & Lenny) and Gerald Porter (Kayla, Katelyn & Gracie)
Heaven has gained an all-star, but Sam will always be remembered by his CBR Renegades, CBS Minor Softball and CBS Celly's Ball Hockey teammates. Sam's friends were numerous, and his memory will be kept alive by everyone, especially Kai, Luke S, Luke W and Mason.
Cremation has taken place. Visitation at Hickey's Funeral Home, 570 Conception Bay Hwy, Conception Bay South, on Thursday July 21st, 2022 from 3:00 pm to 8:00 pm with a Celebration of Sam's life on Friday. July 22nd 2022 at the All Saints Church, 419 Conception Bay Hwy, Conception Bay South at 2:00 pm. To view the funeral service, please go to facebook.com/AllSaintsAnglicanChurchCBS.
Heaven is providing Sam with the highest trees, best playgrounds, and fields where he can climb and play sports to his heart's content, Angie, Steve and Aiden want to do that for all his friends here as well. In lieu of flowers, Angie, Steve and Aiden would like you to send donations to climbingforsammy@gmail.com to help build the best playground for climbing at Admiral's Coast Academy in Conception Bay South. To send a message of condolence, please visit www.hickeysfuneralhome.com