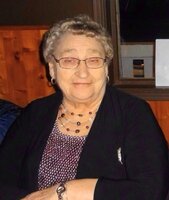 Beulah Gregory
Beulah Gregory
January 29, 1936 – July 31, 2022
Passed away peacefully at the age of 86 at St. Clare's Hospital on Sunday, July 31, 2022 with her loving family by her side. Predeceased by parents: Olive and Sandy Spurrell, sisters: Juanita (Victor) and Audrey and brother: Weldon (Nellie).
Left to mourn, husband Raymond of 63 years, son: Randy (Karen), daughters: Rhonda (Harold), Roxanne (Ken), Raylene (Jude), grandchildren: Michael (Jennifer), Melissa (Steve) Gregory, Matthew (Meg), and Evan, great grandchildren: Carter, Blake and Sarah. Special nieces Darlene and Cindy and special nephew Rod. Also leaving to mourn many adoring family and close friends.
Beulah's health issues required close monitoring by a team of health professionals. Thanks to her dedicated family physician, Dr. Aguilar and to her medical specialists: Dr. Laing, Dr. Fox, Dr. Pal, Dr. Tong, Dr. Gulliver, and Dr. Pittman. Your guidance and caring were so appreciated.
During her recent illness, she was provided with exceptional, professional, and compassionate care by the health care teams of 5 East and 7 East at St. Clare's Hospital, your thoughtfulness shown to our family was also much appreciated.
Thanks to Rev. Strong, Rev. Mercer, and Rev. Pillings for your spiritual support.
Thanks to everyone for all the caring and love provided to our family over the last four weeks.
Visitation will be held at Hickey's Funeral Home, Kelligrews on Tuesday, August 2nd. Family 2:00pm –3:00pm and then 3:00pm – 8:00pm for public visitation. Funeral will be held at St. Peter's Anglican Church, Upper Gullies at 2:00pm, Wednesday, August 3rd.Interment to follow in St. Peter's Cemetery. Donations in Beulah's memory can be made to St. Peter's Memorial Fund. To send a message of condolence, please visit www.hickeysfuneralhome.com
"Wherever a beautiful soul has been, there is a trail of beautiful memories."