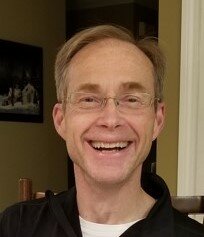 Share Your Memory of
Mervyn


Obituary of Mervyn Hann
Remembering Mervyn Walter Hann
On March 2, 2022, Mervyn Walter Hann died peacefully, surrounded by the love of his family.
Merv, the son of Allan and Sylvia (Collett) Hann began his life in Harbour Buffet, NL living there only a short time before his family moved to Conception Bay South, NL. He grew up in CBS, graduating from Queen Elizabeth Regional High School and then Memorial University. He would work with Johnsons Insurance in NL before making his way to Moncton, NB where he grew his career with NBTel, met and married Shelly O'Brien, and had two sons, Griffin and Josh.
Since 1999 Merv and his family have lived in Stittsville ON where, for the last 23 years, he worked with the wonderful team at Empowered Networks Inc. and found many dear friends amongst his colleagues.
Merv would say he was an "okay" hockey player and a good badminton player. He'd probably be right about the hockey and he loved the team spirit it provided, but he was a very good badminton player and he loved the sport. He coached both Griffin & Josh in hockey for many years and volunteered with the Stittsville Men's Hockey Association and the Kanata Badminton Club.
Merv loved to travel in style but he also really loved the adventure of travelling outside his comfort zone to see and experience new things. He was fascinated by different cultures and enjoyed navigating in countries where the North American culture was not prevalent and where English was not spoken. This has led to many interesting experiences and stories that have provided lots of laughter over the years. His adventures took him many places worldwide, but he had a particular fascination with Asia, particularly China. He travelled there many times while adding Vietnam, Cambodia and Thailand to the list as well.
Merv was so much fun to be around, and he was even more fun to live with. In our house we laughed every single day, and he was often the instigator with an appropriately applied Newfie accent added for humorous effect. He was quick-witted and hilarious. He loved a good "boondoggle" with his sons. Like his own father, he loved to tinker and figure things out himself - from computers & electronics to fixing machinery and building "interesting contraptions" that would receive many a raised eyebrow from his wife.
Merv was a good sport, a good neighbour, a good friend, a good brother, and a wonderful man. Most of all he was a dedicated son, a loving father who was so very proud of his boys, and the best husband and partner to his wife of 29 years.
He died too young at just 56 years of age, but he lived an amazing life that left a positive impact on so many. We were truly blessed to have him in ours. He will be carried in the hearts of many, and he will be treasured always by his family.
Merv was pre-deceased by his father Allan Hann and his father and mother-in-law Harry and Muriel O'Brien. He is survived by his dear mother Sylvia, his wife Shelly, and the sons he loved so much, Griffin and Josh. He is loved by his sisters Doris Power and Edna Hyde, his brother Gord, and their families Jim, Jennifer, and David (Doris); Bill, Billy, and Andrew (Edna); Lily Hann (Gord); and his sister-in-law Shuan O'Brien MacDonald and her family. Merv is remembered by aunts, uncles, nieces, nephews, many dear cousins, and so many dear friends, especially his lifelong friend Stephen Reid (Karen).
Family and friends are invited to join in a service to celebrate and remember our loved one, Merv Hann, on Friday, April 22nd, 2022 at Hickey's Funeral Home, Kelligrews. The family will greet and receive visitors from 9:00 AM followed bty service in Hickey's Memorial Chapel at 10:00 AM. Interment will follow in All Saints Anglican Cemetery, Church Road, Foxtrap.To view the service LIVE, please visit www.hickeysfuneralhome.com and click LIVE. The family respectfully requests that all in attendance be vaccinated, wear a mask and limit physical contact due to rising rates of COVID.
In Merv's memory, should you wish, perform an act of kindness for someone who really needs it. Call your Mom, hug your loved ones, share a family dinner and abundant laughter.
The MUN Commerce 1987 have created an award in Merv's memory that is intended to be given annually to a MUN student in Commerce that demonstrates certain attributes and academic achievements. The link is provided below.
https://www.mun.ca/give/where-to-give/merv-hann-tribute/?fbclid=IwAR2hPBPTSRjtEnE326EOiHpN9c570aLf2HqCJvcnStOvYSOg0mlCBww-4As
Merv, you will always be in our hearts and minds. Until our next "boondoggle" together you know we loves ya Sweetheart, Dad, Son, Brother, Nephew, Uncle, Cousin and Friend.
To send a message of condolence, please visit www.hickeysfuneralhome.com

570 Conception Bay Highway
Conception Bay South, NL A1X 7P8
294 Conception Bay Highway
Holyrood, NL A0A 2R0