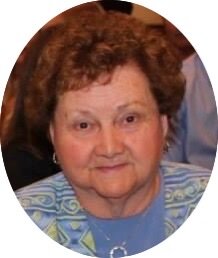 Obituary of Marion Doody
Marion Doody (Dobbin), 84, of Admiral's Beach passed peacefully away on Monday, September 5, surrounded by family at St. Patrick's Mercy Home in St. John's, NL. She leaves with a life time of memories, Lawrence, her husband of 61 years, sons Jimmy (Vera), Brendan (Kelly) and Clyde (Paula), daughter-in-law Elaine Doody (Rhodie), sons-in-law Shawn Regular (Linda) and Brian Pye. Also 13 grandchildren: Lindsey (Ryan), April (Tyler), Rebecca (Fred), Chelsea (Justin), Ryan (Hanna), Kazimier, Glenn, Shauna, Courtney (Jord), Shane, Kristen (Eric), Candace (Tony) and Brittany (Randell), 10 great-grandchildren, sister Theresa Bishop and a large circle of extended family and dear friends. Marion is predeceased by her son Fred Doody, daughter Sharon Regular and daughter Mary Pye as well as parents Stanley and Molly Dobbin, Henry and Florence Power and Mary Daley (Jim), parents-in-law Vincent and Emma Doody, brothers Allan and Clifford Dobbin, Sebastian, Rhodie, and Jimmy Power, sisters Bride Linehan (Gerald), Mary Linehan (Edmund) and Mary Singleton (Vince), nephews Terry Dobbin and Mike Bishop and a number of other fondly remembered relatives and friends.
Marion grew up in Regina on Colinet Island in St Mary's Bay. Just across the way in Mosquito, a little boy named Lawrence was also growing and learning to step dance. Before long, the two fell in love and got married. About this time, resettlement moved the young couple across the bay to Admiral's Beach where they started a family in a house by the ocean that had been floated over from the island. Together, they took care of aging parents and raised six hardy children. Mixed in there were also a number of foster children that needed a loving stopping place along the way, a few years spent housing and caring for seniors in their home and boarding of various workers and contractors, among many other jobs here and there. The door was open to all and the house was often full.
Marion loved traditional music and dancing. She and Lar spent many an evening square dancing with friends as the accordion music played. Perhaps most of all, Marion enjoyed camping. From packing the family into a little camper and heading to a meadow or gravel pit to their many years seasonal camping at Gushue's Pond Park, Marion was always excited for May 24 to come with cooked dinner on the Coleman stove, sitting out by the fire and countless rowdy hands of 120s with family and friends.
Marion was quick to laugh or make funny comments and just as quick to line you up if she felt you needed it. She worked hard to make sure all her kids were cared for and had the opportunity to make something of themselves. She loved Lar and her children first of all and everything else revolved around that Her humour, persistence and unwavering love left her children, grandchildren and great grandchildren all the better for having her influence in their lives.
Many thanks to those at St. Clare's and St. Patrick's Mercy Home for her care in her last few months.
Resting at Queen of the Holy Rosary Roman Catholic Church in Admiral's Beach with visitation from 2 to 4 PM and 6 to 8 PM on Wednesday, Sept. 7 and 9 to 11 AM on Thursday, Sept. 8. Funeral Mass to take place on Thursday, Sept. 8, at 2:00 PM at the church with internment to follow at Sacred Heart Cemetery in O'Donnell's. To send a message of condolence, please visit www.hickeysfuneralhome.com