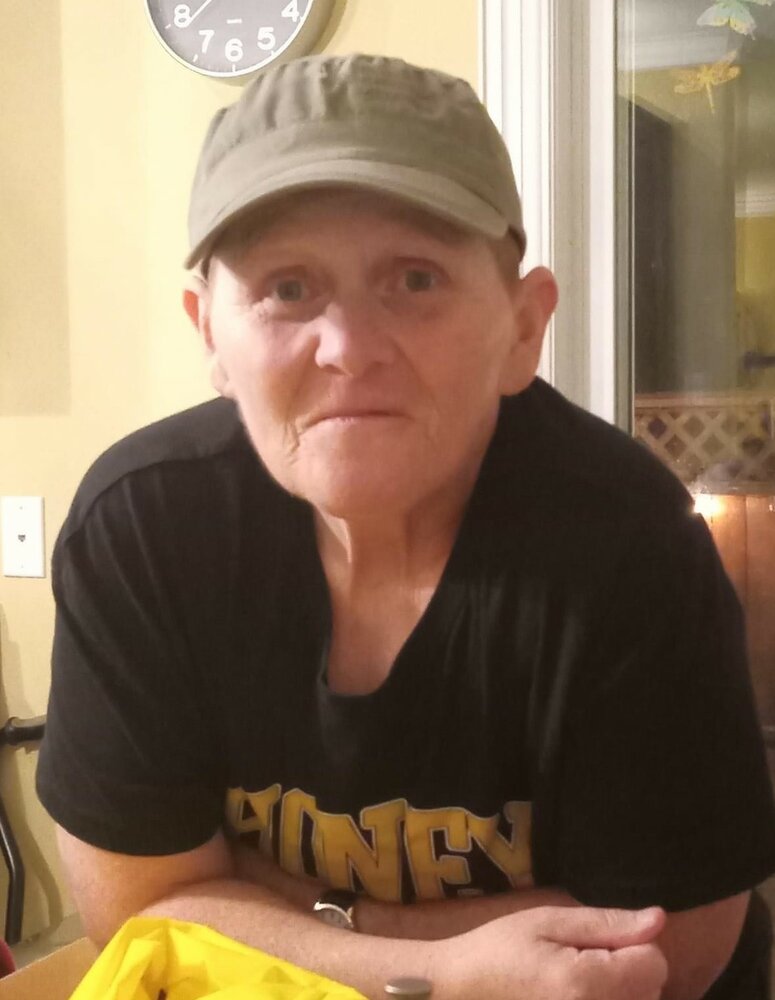 Obituary of Karen McEvoy
Karen Marie McEvoy
March 12, 1963 - October 15, 2023
Passed away surrounded by her loving family in her comfortable place, her sister Marsha's house after an eleven-year courageous battle with cancer.  Karen Marie McEvoy of Admiral's Beach, St. Mary's Bay, aged 60 years.  Predeceased by her parents John Francis and Helen McEvoy (nee Ryan).  Leaving to mourn with broken hearts and loving memories her husband of 34 years Jerry Keats. Her 10 children who were her pride and joy: Zachary (Sierra), Alexander (Holly), Miranda (Grace), Dominic, Xavier, Zatara, Tyeena (Henry), Zedric, Zavanna, Zyerra/Yoshi.  Her siblings Darlene (Kevin Bennett), John, Nora, Leona, Wendy (Allan Roach), her caregiver and sister Marsha (Mike Butler) her father and mother-in-law Alfred and Alice Keats, brother-in laws Wayne, Corey (Claudine),  Dean (Sue), sister -in -law Roxanne (Frank) and her many nieces and nephews, and other relatives and friends, also special childhood friend Elaine Doody, family friends Sandra and Les Oldford of Mount Pearl, Meshell Wight of O'Donel High, Dough Partridge, the children's Newfoundland Basketball Coach, Carl English the children's basketball coach,  your generosity will never be forgotten.  Dr Jeff White who was more than just their family doctor he went above and beyond to help her family as well as Dr. Barker.  Thanks to her family Dr. Jamieson Mercer.  Special thank you to Dr. Melanie Seal, Dr. Noreen Fardy, Dr. Lori Hayward and all the staff at the Cancer Clinic who treated Karen with such love, your care and compassion will never be forgotten.
Karen was the strongest person we know, she devoted every moment to her five sons and five daughters, she always put them first before herself.  She loved watching her children play their sports and spent countless hours driving them to their games and loved every minute.  From a young age Karen loved playing sports especially hockey and softball. She loved trees and watching birds and thrived on watching the laundry dry on the clothesline. She adored the outdoors and loved to visit her family home in the last years of her life sitting on the patio enjoying the view of Colinet Island.  Shopping was her favourite pastime; she could spend hours a day browsing in her favourite stores.  Her favourite time of year was Christmas, she loved to make everyone smile. We cannot forget to mention the tender loving care that Mike provided to Karen in the last months and moments of her life, she absolutely adored you, he made every moment matter to her.
At Karen's request, cremation has taken place.  In lieu of flowers, a monetary contribution can be made to the family during this difficult time to marshamcevoy@hotmail.com. To send a message of condolence, please visit www.hickeysfuneralhome.com
Mudder,
We will always love you and we thank you for everything you did and all the sacrifices you made to give us the best life possible, we will always love you and remember you.  We know you will always be our angel looking over us… Zachary, Alexander, Miranda, Dominic, Xavier, Zatara, Tyeena, Zedric, Zavanna and Yoshi.



570 Conception Bay Highway
Conception Bay South, NL A1X 7P8
294 Conception Bay Highway
Holyrood, NL A0A 2R0